PCVITA released findings of new survey done on Sharepoint to Sharepoint migration manager
SharePoint Migration Across Servers through our SharePoint to SharePoint Migration Software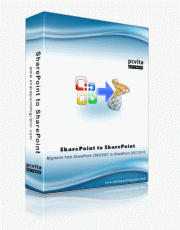 Enterprises looking for upgrading their existing SharePoint 2007, 2003 to SharePoint 2010 or moving content from existing SharePoint 2007/2010 to another SharePoint 2007/2010 server should consider their SharePoint to SharePoint migration strategy through an efficient product like PCVITA Express Migrator for SharePoint (SharePoint to SharePoint Migration). Highly used features are:
Migrate the meta information associated with document library files
Migrate multiple document libraries, sites and lists
Migrate the permissions associated with document library
Migrate to cloud i.e. Microsoft BPOS/Office 365 as well on-premise
SharePoint to SharePoint Migrator - "Start with Demo; Secure With Full Version"
By making this demonstration model in your reach, we are actually projecting a transparency in your purchase process by imbibing a genuineness in it, as you can see the process clearly by migrating 5 documents from SharePoint to SharePoint 2010/2007. Further, you can move on to convert all documents by investing into this SharePoint to SharePoint migration tool.
Express Migrator can also used for re-organizing content within the same SharePoint Server as part of reorganization. PCVITA provides a comprehensive technical support to ensure the SharePoint migration project is completed without any issues. Such project requires highly dedicated support apart from just product. We provide complete support from pre-sales till execution of the project. Express Migrator for SharePoint to SharePoint migration software comes with following features:
Migrate SharePoint document library, lists and sites with complete data fidelity and zero downtime
Migrate SharePoint documents with all original meta data intact
Complete migration can be performed from workstation without installing agent on the SharePoint Server
Migration from SharePoint 2001/2003/2007/2010 to SharePoint 2003/2007/2010
Migrate SharePoint Libraries, Form Libraries, Folders, Communications Lists, Tracking Lists, Custom Lists, Web Pages, Metadata, Version Histories, Site template, Portal areas and listings and so on.
100% dedicated technical support from pre-sales to actual SharePoint to SharePoint migration.
Are you thinking to Switch from Offline SharePoint to SharePoint Online (Office 365)?. Take the best tool!
PCVITA is also involved in providing onsite/remote services for SharePoint Migration from SharePoint 2003/2007 to SharePoint 2010 as well as SharePoint to SharePoint 2010 upgrade. Services can be leveraged by Enterprise, Microsoft Partners, System Integrators or Migration specialist to make each SharePoint migration project becomes successful.
Related Migration Products:






Our Client Testimonials

Using your software was a pleasure for me and my system administrator. It took him only a few minutes to perform the whole migration process from Sharepoint to Sharepoint 2010