Migrate File System to Sharepoint 2010 or MOSS 2007 with our Great Tool & Technical Support!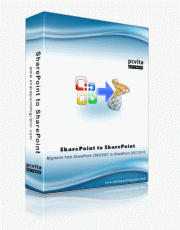 Starting at $299
Infrastructure robustness is something we can't always keep an eye on or at least assured about it. Alternatives call for outsourcing the same but this could prove a serious security compromise. Solution to settle down is something in between ownership, less infrastructure. Yes, solution is cloud services, none better than Microsoft Office 365 which critically balances your data legacy ensuring integrity. On premise SharePoint to Office 365 migration has never been hassle free but you first need to evaluate third-party assistance before stumbling on it. PCVITA Express Migrator for Office 365 provides you with optimal level of flexibility while transfer SharePoint 2007, 2010 to Office 365 document libraries, sites, lists etc. Take insights:
Upload SharePoint Document Library to Office 365
Shift SharePoint sites to Office 365
Convert SharePoint Lists to Office 365
Try it FREE Now, Take a Glimps of On Premise SharePoint to Online SharePoint Migration!
What do we expect from every user? Try the Demo version which is totally FREE and talk with our Support professionals (Ready to prompt you in an eye blink) whenever any query arises. Order the Full version to migrate more than 50 items.
Migrate SharePoint to Office 365: Comprehensive being Secure:
Full fidelity content migration at the item, sub-site or site level
Consolidations retaining existing Meta data besides modify options
Rollback navigation to redbud jobs yet to be migrated
Auto reflex resume for uncluttered migration process
Pre migration character mapping and configuration
Leverage your Legacy: SharePoint to Office 365 migrations: Unlined migrations granule down to site, sub sites, lists to lone documents snaffled with comprehensive 24x7 online chat ancillaries from inception to end free even when you scheduled for demo. Purchase full version for $999 and avail unconstrained size migrations.
Express Migrator for SharePoint The wiki key:
Consolidations piggybacked through secure channel
Real time migration stats besides after migration summaries
Easy job audits through direct menu access
Shift on premise SharePoint (WSS V3, MOSS 2007, 2010) resources (Lists, sites, document libraries) to Office 365 existing hierarchy maintaining business organism
Minimize effort withal avail maximize return on your business-critical data
On-panel cheat's sheets and support options.
Developed to address productivity challenges SharePoint though being a collaborative knowledge repository but legacy migrations concerns are foremost and can't be deployed ad-hoc. PCVITA Express Migrator for SharePoint, a well architecture SharePoint to Office 365 migration utility is introduced at large to gray out existing migration barriers restraining pitch to cloud services.
Related Migration Products:

SharePoint 2003/2007 to SharePoint 2010/07

File System/share to Office 365

Exchange Public Folder to Office 365

Lotus Notes Documents to Office 365

Lotus Notes Emails to Office 365

Our Client Testimonials

File System to SharePoint migration was not as difficult as I imagined it to be; rather it was quite easy and effortless with your software. Thanks for developing such user-friendly and handy tool for such crucial migration.