Fundamental Solution to Migrate Lotus Notes to SharePoint Server with Our Express Migrator!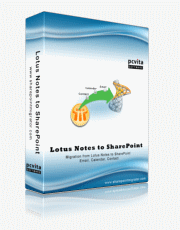 Collaborate in extent however being in synchronization with latest technologies on premise SharePoint (WSS, MOSS, SharePoint 2010) or SharePoint deployment over Office 365 platform in question. How to migrate Lotus Notes to SharePoint? Ours is one of the best Lotus Notes to SharePoint migration tool that allows SharePoint administrators to conveniently automate the Lotus Notes to SharePoint migration process. This fundamental solution helps to consolidate full range of enterprise-wide email info onto MS SharePoint Server, thereby, maximizing the returns on investment in the existent email content resting inside NSF files. Few unique keys are:
Migrate emails, contacts and calendars from Lotus Notes to SharePoint
Migration of multiple NSF files together at one go
Migrate Lotus Notes to SharePoint in original format
Customized migration of emails between any chosen date range
Demo to Migrate 1 NSF File and Full Version to Migrate ALL!
The authenticity is instilled and confusion is abridged by this facility of free product demonstration, where you get to download this costless demo to acomplish the SharePoint migration from Lotus Notes repository with 1 NSF file. For migrating ALL files onto Microsoft SharePoint Server, you can make the online purchase with 30-days money back refund policy.
Lotus Notes application and its Document Library have certain limitations. On the other hand, SharePoint is presumably better with more helpful aspects and useful attributes.
Lotus Notes to SharePoint migration is a good move on your part
Owing to global support, you can easily migrate Lotus Notes to SharePoint 2010
Lotus Notes to SharePoint 2007 is efficient and reliable using our tool
Architect migration in your own way by using email filters; customize convert of NSF files
Migration of emails between any selected date range
Facility to migrate Lotus Notes to SharePoint overwriting existing files, creating folders and Document Library
Want to move emails/contacts/calendars from Lotus Notes to Office 365 (SharePoint Online)? Try out here!
PCVITA Software (Simple Software with Great Suppport) is totally cloud migration solution based company that offers free pre and post migration support continuously untill the Lotus Notes mails migration process gets done. Lotus Notes mails, contacts and calendars to SharePoint migration is a complicated procedure. For that, our free support is for your help 24*7.
Related Migration Products:






Our Client Testimonials

Your Company is worth the praise of every user who associates with you. Just increase your product range more and you will be one of the finest names in online data migration software industry.