Lotus Notes to Google Apps Migration - Cloud Conversion Tool for NSF Files Interoperability!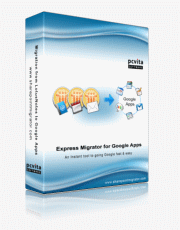 Starting at $69 Only
IBM Lotus Notes, the traditional email client communication platform besides Microsoft Outlook. Choices have been made over IBM Lotus Notes or Microsoft Outlook? Though, enterprise communication platform Lotus Notes to Google Apps is in use, more than millions of enterprise still engages with Lotus Notes for email client platform. But, what is besides the traditional work orientation? Yes, as we know, cloud migration is indeed significant for today's enterprise needs. Change data to Google Apps that is of high demand nowadays. Start to move your Lotus Notes emails data into Google Apps through PCVITA Express Migrator for Google Apps tool.
Why PCVITA Express Migrator for Google Apps Switch?
Simple and easy migration steps. No expertise required
Leverage with secure legacy content migration
Flawless unlimited support till the successfull migration
Available in Flexible Price strutcure for SMB to Enterprise users.
Begin with FREE Trial - Transfer upto 50 Emails:
Download the FREE trial version for testing and evaluation purposes, free migration from Lotus Notes to Google Apps upto 50 emails only. But, for the entire migration, you must acquire full version, available at $69 only. Contact our technical assistance over 24/7 online for an abrupt cases or queries. Pre/Post support is unlimited untill the migration completion.
Express Migrator Features List:
Convert Lotus Notes ALL items (emails, contacts, calendars & tasks) without hampering data integrity
Allows moving of contacts from Lotus NSF to Google Apps as shared contacts

Handles canonical form names in a pre defined/ customized manner
Upload entire data with support to the Re-Migration in the case of interrupted and error migration
Sync Lotus Notes to Google Apps with advanced OAuth based migration
Migrate Lotus Notes to Google Apps account (Single/multiple) with its associate accounts also uploaded
Export, Meta data information such as createdon, modifiedon, cc, to, from, subject, etc
Migration of Encrypted NSF files to switch from Lotus Notes NSF format to advanced Google Apps
Bulk migration of users email data from Lotus Notes to Cloud storage services i.e. Google Apps
Connect Lotus Notes to Cloud environment by maintaining folder hierarchy
Filter based migration on qualities like categories, exclude or include sent and deleted items
Transfer and import emails from Lotus Notes to Google Apps between received date ranges also
Provide report & appropriate error detection mechanism while add Lotus Notes to Google Apps process is carried out
Lotus Notes to Cloud conversion with any Lotus Notes and Domino Server editions (6.5, 7.0, 7.5, 8.0, 8.5)
Supports migration over Google Apps for Free, Business, Education, Government & Google Apps for Nonprofit platforms
Why Migrate Lotus Notes to Google Apps?
In the contrast, Google Apps business account is reliable and flexible to date. Migration of IMB Lotus Notes emails, contacts, calendars and tasks to Google Apps account is indeed crucial and genuine? To maintain the interoperability between your Lotus Notes to Google Apps account, you must require having surplus technical background. In the contrary, cloud migration in general, synchronizing of one's information without any resources necessity. For that, make a FREE try with us.
Prerequisite:
» Lotus Notes must installed & configured with POP3 profile

» Lotus Notes should not be connected with Domino Server.

» Google Apps should enable provisioning API

» Google Apps must enable to use the Email migration API
Other Google Apps Tools: