Here Is a Chance for Product Evaluation - Avail Free Download of SharePoint Migration Tool!
Download SharePoint Migration Demonstration Models:
When you see something right in front of your eyes and when you use it yourself, then only you believe the worthiness of that product. We acknowledge this need very well and for that matter; give out the free demonstrations of our SharePoint migration tools, FREE tools demos will help you get a see-through process of procuring any of the products that we have in the offering and fathom the efficiency of those tools and probe the proficiency.
System Requirements:
Operating System
Win 2007/Vista/2003/XP/2000
System Processor
1.2 Ghz
Primary Memory
1 GB
Free Disk Space
15.9 MB
SharePoint Server
SharePoint 2007 or 2010
Enterprise Mail Migration: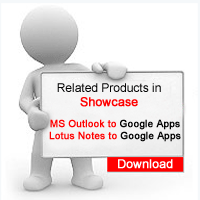 30-day Money Back Policy