Migrate File System to Sharepoint 2010 or MOSS 2007 with our Great Tool & Technical Support!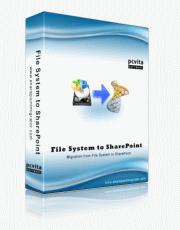 Starting at $299
PCVITA Express Migrator for Sharepoint is a comprehensive product to migrate the content of file share/file server to Microsoft Sharepoint 2007/2010 server. As part of Sharepoint adoption system administrator/system integrator are challenged with the task of migrating the existing content stored in file share/file system to the new Sharepoint environment. To accomplish the file system to SharePoint migration, Express Migrator for Sharepoint has the right combination of functionality & simplicity.
Support for migrating to On premise and Microsoft BPOS/Office 365.
Create document library and folder hierarchy on Sharepoint.
Handles Sharepoint invalid characters in a configured manner.
Ability to migrate permissions associated with folder and file to Sharepoint.
Try Demo Version of Express Migrator for SharePoint to analyze File System to SharePoint Migration!
What we recommend to every user, who comes to us with the requirement of Windows File System to SharePoint migration, is to try the demo version first. Demo allows migrating 500 MB data, which gives a enough but clear idea about the tool.
Express Migrator for Sharepoint apart from providing rich and powerful functionality provides an easy and simplistic user interface to allow end user to adopt to the product without any training. This makes the file system to Sharepoint Migration an easy and simple project to execute. Express Migrator for Sharepoint (file System) provides the following handy features:
Support for MOSS 2007/Sharepoint 2010
Migrate multiple folder(s)/file(s) from File system to SharePoint Server
Filter based migration of all files from Windows file system to SharePoint database
Process additional meta information associated with Office documents such as: MS Word, MS Excel & MS Powerpoint
Maintain folder hierarchy while migrate file system mto SharePoint
Maintain CreatedOn/LastModifiedOn dates for files and folders
Ability to add Meta information while migration
Ability to migrate permissions associated with folder and file to Microsoft Sharepoint Server
Considering the Windows file system to Sharepoint migration is an important project to execute for end user, PCVITA provides technical support of highest quality. It understands our SharePoint migration product only cannot make the project successful but it need people who understands the product. PCVITA is committed to provide technical support for the file system to SharePoint migration project through every communication channel possible.
Supported Resources for Great File System to SharePoint Migration:
Microsoft Windows XP, Vista, Win 7, Server 2003 Standard, Enterprise Edition, Win Server 2008, 2000 File systems
Microsoft Windows SharePoint Services (WSS) V3, WSS V2, SharePoint Portal Server (SPS) 2001, SPS 2003
Microsoft Office SharePoint Services (MOSS) 2007 & 2010, SharePoint Server 2010, SharePoint Foundation 2010
Microsoft Business Productivity Online Suite (BPOS)
Related Migration Products:






Our Client Testimonials

File System to SharePoint migration was not as difficult as I imagined it to be; rather it was quite easy and effortless with your software. Thanks for developing such handy tool for such crucial migration. "Faith"