Ultra Simple Process to Migrate File Share to SharePoint Server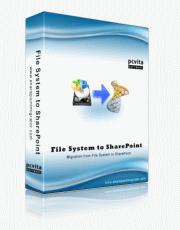 starting at $299
PCVITA Express Migrator for SharePoint solution provides ultra-ease and mega-convenience in performing File Share to SharePoint migration, thereafter, allowing you to work in the desired SharePoint system environment. Highly consolidated bulk migration from File Share to Share Point for dexterouus collaboration on lagre organizational platform.
Proficient file share to SharePoint on-premise migration
File Share to SharePoint Document Library migration in original hierarchy
File Share to SharePoint 2010 and File Share to SharePoint 2007/2003 move
Software provides migration status and error reports mechanisms
Efficiently replace special charecter with any name or underscore (_) symbol
Software Demonstration and Full Conversion from File Share to SharePoint Respository:
Cashless conversion of 500 MB sized files from File Share to SharePoint! Let's simplify! We provide Free demo version to freely move File Share to SharePoint files. Full working version is saleable, but the price is nominal to migrate File Share to SharePoint completely. Experience the free utility for a confident pruchase.
The graceful interface appeal of the tool is such that it will link File Share to SharePoint so well that you will feel privileged to perform the migration from File Share to SharePoint files. You will be able to swap the anonymus characters as well as file names with custom defined text in any folder. Seek this solution to migrate file Share to SharePoint along with the facility to define custom permissions for files/folders.
Enthralling Attributes of Software:
Explicitly export file permissions to SharePoint for enhanced control over Modify/Read & Execute/Read/Write permissions.
Structured bulk migration of File Share to SharePoint.
Add File Share to SharePoint to copy all File Share Permissions with absolute perfection.
Migrate arduous File Share data to Share Point in absolute configuration.
Incremental migration of miscellaneous File Share information to Share Point.
Filters based approach for enhanced data cohrrency File Share to Share Point migration.
Copy File Share Folder to SharePoint with out any data distortion.
Thorough Metadata appended for alert migration from File Share to Share Point.
Well preserved original folder structure and directory hierarchy during migration.
File Share to SharePoint 2007/2010 & SharePoint Server 2003 migration supported.
File Share to SharePoint Migration software provides you filters for content type, dates etc. Also, you get the facility to add extra Meta info with files. Migrate complete File Control Premissions for File Share to SharePoint.