Express Migrator for Google Apps - Move Lotus Notes, Outlook & IMAP Domain Emails to Cloud
PCVITA Software unveiled the latest Google Apps migration software i.e. PCVITA Express Migrator for Google Apps. It's a cloud-based incorporated utility which can flawlessly perform numerous tasks at a time. Google Apps migrator is renowned for the bulk migration mechanism of Microsoft Outlook PST files, IBM Lotus Notes NSF files and IMAP webmail servers (aol mail, gmail, yahoo mail, msn hotmail, rediff mail, gawab, zoho mail & Lotus Live) emails to Google Apps domain in an instant.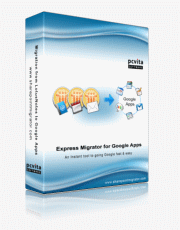 Starting at $69 Only
Save and secure Lotus Notes NSF emails, contacts, calendars and tasks by our Lotus Notes to Google Apps conversion utility, innovative cloud migration tool. Now start switching from Lotus Notes to Google Apps and get the following significant features:
Migrate Lotus Notes NSF mailboxes through Filter based migration functionality
Perform re-migration from any interrupted point of whole migration process
OAuth functionality with fidelity over the entire NSF to cloud exporting process
Flexibly convert NSF calendars by supporting recurrence calendars functionality
Transfer emails, contacts, task and calendars by maintaining meta information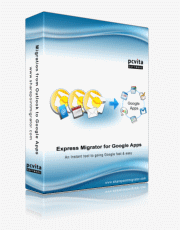 Starting at $69 Only
Though, your Microsoft Outlook PST files has a constraint functionality over huge PST file size, corruption etc. Get our Outlook to Google Apps converter tool for entire migration of Outlook PST to Google Apps premium account. Smooth features are:
Batch migration of MS Outlook PST files, move emails, contacts & calendars
File(s) re-migration mechanism from the last interrupted status
Filter based migration functionality while forward and upload Outlook emails
OAuth functionality is maintain to Switch onto Google Apps cloud services
Shift onto Google Apps from Microsoft Outlook 97, 2002, 2003, 2007 and 2010.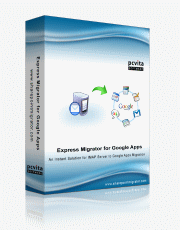 Starting at $69 Only
Starts synchronize and collaborates your enterprise communication platform and personal webmail services with the help of IMAP to Google Apps migration tool of PCVITA. Start moving webmail server emails by getting following advance features:
Instantly migrate entire mailboxes (inbox, outbox, draft, sent & deleted items)

Transfer and upload emails in hierarchical order (Also creates custom folders)

Converts emails with to, cc, bcc, from, sent, receive, date, time & attachments

Import emails from multiple IMAP accounts to multiple Google Apps users

Persistently support Secure Socket Layer (SSL) while add IMAP to Google Apps

Download the FREE version of PCVITA Express Migrator for Google Apps with the functionality of 50 emails export. Purchase the full version for the entire migration of Lotus Notes to Google Apps domain, Outlook to Google Apps cloud services and own domain Webmail server to Google Apps domain. Best buy with 30 days money insurance and 24/7 online support.
Why Needs PCVITA Express Migrator for Google Apps?
Smart technology and infrastructure is indeed reliable a platform for one's enterprises? Yes, switching to Google Apps cloud services play an important role and significant for the cut-cost and barriers of maintenance and updates, security, storage services and budgets as well. Never too late, start switch to Google Apps cloud services for the mentioned significant points. Choose the best Google Apps Migration utility and enable the entire migration of Microsoft Outlook, IBM Lotus Notes, IMAP Webmail server to your Google Apps account. Try now and integrate your entire file information into a virtualized platform.
Prerequisite:
» Lotus Notes should be installed & configured with POP3 protocol
» Lotus Notes should not be connected with Domino Server.
» Microsoft Outlook should be installed & configured with POP3 protocol
» Outlook should not be tied with Exchange Server
» IMAP account is must enabled and supported
» Google Apps should enable provisioning API
» Google Apps should enable users to use the Email migration API