Ascertain Successful Exchange Public Folder to SharePoint Migration by our Express Migrator!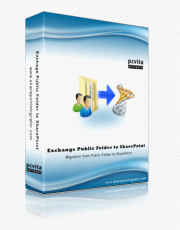 Minimal Cost $299
Technology convergence is only possible alley-way to barter with growing competence. PCVITA Express Migrator for SharePoint stipulates to migrate Exchange Public Folder to SharePoint in a result-oriented manner ascertaining successful outcomes. Investment in this dynamic Exchange public folder to SharePoint migration solution will fit in your Public Folder to SharePoint conversion protocol most efficiently. Take the handy features set of our tool.
Exchange Public Folder to BPOS/Office 386 migration supported
Incrementally publish Public Folder data over SharePoint Server online
Migrate data to site collection or Servers from Exchange Public Folder
Export data to SharePoint objects in existing sites of Office 365, on-premise and hosted sites from Public Folder
Functional Demo and Fully Functional Version, Both Available! Evaluate the Demo & Purchase the Full!
Get proper exposure and perform experimental migrations from Exchange Public Folder to Sharepoint, get the demo, which lets you migrate upto 500 MB data. After complete exposure & exploration, get the functional version for unlimited migration.
Akin to perfection is this simple to use Public Folder to SharePoint migration tool, which you can securely and reliably use to migrate Public Folder to SharePoint migration being simple in contrary. Consolidate, upgrade, re-organize, migrate, copy to any of these SharePoint environments (2003, 2007, 2010). It is thus easy to migrate Exchange Public Folder to SharePoint server.
Extensive pre-migration character mapping
Filters constrained approach for seamless switching
Appropriate real time migration stats and job summary
Exchange Public Folder to SharePoint 2010/2007 assisted migrations
Progressively shifts encrypted data consolidation channel to SharePoint
Software handles complex mapping between different data types of Microsoft Exchange Public Folder and SharePoint items like lists, libraries, views, sites, & metadata columns
Assured meta data coherency, pre and post migrations
Menu driven shortcuts to job management modules
Exports exchange 2003 to sharepoint,exchange 2007 to sharepoint and exchange 2010 to sharepoint in bonus
Effecient migrations among Multiple versions of Exchange Public Folder and SharePoint
Simplified and interactive user interface for agile migrations
Software gives you such view in SharePoint, which is very easy and intuitive, both, for Exchange & SharePoint users
There is no room for errors during the uploading of business cirtical data to SharePoint.Exchange Public Folder to SharePoint migration is not a so easy task. For that, PCVITA Software came up with the solution,Exchange Public Folder to SharePoint tool which has sound techinal professionals that continously help you move Exchange public folder to SharePoint migration through online chat, emails, and remote connectivity untill the migration job complitation key
Related Migration Products:






Our Client Testimonials

Being a system admin, this is under my cap always to perform all types of migrations whatsoever the company's head contemplates to perform. This time around with PCVITA as my mentor, I had a great time migrating Public Folder to SharePoint