Migrate Outlook Mails to SharePoint: Absolute Solution Available Here!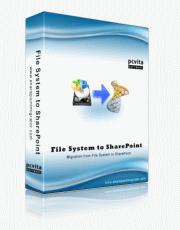 Starting at $299
Convert Outlook mails to SharePoint, so that the advantage of new advanced email client, SharePoint will be on your finger point with all the emailing data and details from Outlook saved in the SharePoint environment. The tool PCVITA Express Migrator for SharePoint, is relevant for MS® Outlook users to satisfy their need of convert Outlook mails to SharePoint, because the tool is guided by advance algorithms and facilities added.
Outlook to SharePoint Migration can be done with the extreme perfection
Transfer Outlook 2003, 2007, 2010 emails to SharePoint without data loss
Simple steps to follow make the process of PST to SharePoint export easy
Relevant solution for Microsoft Outlook to SharePoint on premise upload process
Free of Cost Version for Benefit of Experience in Migration Process
Get the free version of the PCVITA Express Migrator for SharePoint software that will help to convert the first 50 emails from PST to SharePoint and for unlimited conversion purchase the full version of the tool.
Forward Outlook PST Emails to SharePoint with Quality Rich Tool:
Migrate PST mails with perfect solution that ensure the data integrity retention even after export process is completed with the advance facilities offered with the tool.
Tool can be called as multi talented solution which helps to forward, add, upload and copy PST emails, contacts, and calendar and task entry to SharePoint with excellence.
Convert Outlook mails by mapping data directly to SharePoint by using options like Character mapping, Profile Meta Data mapping, Multiple user mapping, Permission mapping.
Character mapping option that comes as a step of pre-migration allows user to define the unidentified characters in file name to identified ones so that no PST files will be omitted while transfer of Outlook PST to SharePoint process is on.
Profile Mete Data mapping helps user to map the meta data of PST emails from Outlook to be stored in the SharePoint environment specifically so that the meta data can be retained without any error while export PST to SharePoint process is carried out.
Multiple user mapping provide option for user to determine particular user account from PST to be stored in the particular name within the SharePoint environment
Permission mapping derives whether the permission in Outlook should be retained in SharePoint or not, like if the permission for PST file in Outlook is Write then it can be mapped to the relevant permission is SharePoint, as Read and Execute, Write, Full Control, Modify, and Special Permission
Microsoft Outlook to SharePoint on premise import process with the tool provides the option to store PST data in existing list or new list created once the user login to the SharePoint account
Switch or move emails from Outlook to SharePoint and get the data transferred by mapping specific demands from user so that while accessing data in SharePoint after adding PST to SharePoint process is done with the tool
Outlook emails to SharePoint conversion software executes the process to add emails in SharePoint from Outlook in highly user friendly way so that even the novice user can get the upload process done.
By converting entire email data including emails, contacts, calendar and tasks the tool can also be pointed out as reliable PST contacts to SharePoint converter tool and MS Outlook calendars to SharePoint server converter.
Shift Outlook 2003, 2007,2010 emails to SharePoint 2003, 2007, 2010, WSS v3, WSS v2, SPS 2001, SPS 2003, SharePoint foundation 2010, MOSS 2007, MOSS 2010 etc because tool is designed as workable with entire Outlook and SharePoint versions for user easiness.
Why PCVITA Express Migrator for SharePoint?
There are many points which can be raised as reason for why users select and accept the PCVITA Express Migrator for SharePoint software for migration process, among them some of the main attributes are:
Advance option to make the process of upload PST to SharePoint perfectly completed
Free version that runs free of cost for limited migration of emails from Outlook to SharePoint server
Professional, technical support that are opened for user help 24x7
Software ability to run with entire versions of Outlook and SharePoint
Related Migration Products:

MS Outlook Emails to Office 365

File System/share to SharePoint

SharePoint 2003/2007 to SharePoint 2010/07

Exchange Public Folder to SharePoint

Lotus Notes Doc Library to SharePoint

Our Client Testimonials

File System to SharePoint migration was not as difficult as I imagined it to be; rather it was quite easy and effortless with your software. Thanks for developing such user-friendly and handy tool for such crucial migration