Migrate File System to Office 365: Cloud Leverage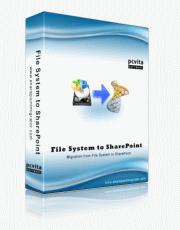 Starting at $299
Focus on business projects less infrastructure concerns leads you towards clouds as only alley-way to be industry collimate. Collaborative workspace scenarios converging supply-chains et al withal global access to legacy data could drive you long way through IT highways being efficient and secure aside. Microsoft Inc. grass-rooted Office 365 cloud services let you approach "SAAS" in much cost-effective way but mapping organizational organic hierarchy onto SharePoint do require effective software which besides consolidations assure you with pre-migration character mapping and configuration settings. Windows File System to Office 365 migration managing ad-hoc jobs go easy with PCVITA Express Migrator for Office 365 software:
Uncluttered migrations, powered to auto resume
Time tabled reports and real time migration stats
FREE Trail - Start Migrating from File System to Office 365
We recommend to every users, get the FREE trail version of File System to Office 365 converter tool and start uploading the data upto 500 MB. For more, make a small investment (Starts at $299) and get the Full version for further data moving.
File System to Office 365 Migrations: move file server, upload files or shift file share in whole
Job wrapped consolidations for better management of same
Rollback navigation to consider further before migrations
Hefty data dumps irrespective of granularity level
Express Migrator for Office 365: Migrations in extent
Consolidate documents from Windows and networked file share to SharePoint 2007 and 2010 online libraries
Maximize ROI from existing content going online.
Map files, folders, disk or any anticipated chunk of Windows file system to Office 365 SharePoint online Document Library, Form Library, Data connections, report, Picture, Shared Library or any self developed SharePoint resources.
Set custom Meta data values besides prior intimacy of same
Supported Resources for Optimal Results, Migrate Windows File System to Office 365
File systems from Microsoft Windows XP, Windows Vista & Microsoft Windows 7
File systems from Microsoft Server 2000, Microsoft Windows Server 2003 Standard Edition, Enterprise Edition, Windows Server 2003 Datacenter Edition or Windows Server 2003 Web Edition, Windows Server 2008
Microsoft Office 365 Cloud Services
PCVITA abridged Windows File System to Office 365 migrations: Hassle free migrations being tender-foot is no more a tech. fiction now. PCVITA makes it possible, came up with PCVITA Express Migrator for Office 365, the in demand utility to migrate File System to Office 365 legacy aboard 24x7 comprehensive migration supports customized to user schedule FREE. Perform unconstrained migrations for $299 and start transfer files, upload files to SharePoint online, move entire file server or granule shift file share documents to SharePoint Online i.e. Office 365.
Related Migration Products:

File System/share to SharePoint

Exchange Public Folder to Office 365

SharePoint 2003/2007 to Office 365

Lotus Notes Documents to Office 365

Lotus Notes Emails to Office 365

Our Client Testimonials

File System to SharePoint migration was not as difficult as I imagined it to be; rather it was quite easy and effortless with your software. Thanks for developing such user-friendly and handy tool for such crucial migration