Exchange Public Folder to Office 365 Migration: Simple, Secure, Comprehensive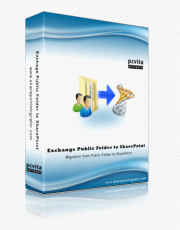 Starting at $299
Entertaining parallel work environment runs need entirely different technology dedicated to knowledge sharing in priority. Microsoft Inc. SharePoint developed to address productivity challenges but do require you to start from scratch as its default theme. Clearly this can't be possible; ignoring maintained enterprise data till date is of no sense. However migrate Exchange Public folders to Office 365 cloud services (SharePoint online) is of no concept, if green-horns are in question.
Necessarily extensive pre migration character mapping alongside configuration settings are required migrating every single file. Productive way points to third-party utility which migrate hefty data files besides assuring organization organic hierarchy being secure enough. PCVITA Express Migrator for SharePoint is launched keeping tender-foots in concern aside veteran managers.
Upload Exchange Public Folder documents to Office 365
Filtered migrations in respect to attribute, file size and date ranges.
FREE Trail for FREE Evaluation - Start Migrating from Exchange to Office 365
For all users who want a test drive before fully sky drive, PCVITA gives FREE installer to make a test drive and upload 5 Exchange Public folder documents to Office 365. After satisfaction, make small investment ($299) to fully cloud move.
Consolidations on the go: copy Exchange public folder files to Office 365
Transfer Exchange Public Folder mails to Office 365
Move Exchange Public Folder calendars to Office 365
Shift Exchange Public Folder contacts to Office 365
Migrate Exchange Public Folder to Office 365: Free Support: Migrate without waffling into technology insights, avail comprehensive online chat support 24x7 alongside demo free. Merchandise for Exchange Public Folder to Office 365 migrator, PCVITA Express Migrator for SharePoint for unbound consolidations $299 only.
Out of the box Solution for Exchange Public Folder to SharePoint:
Job packaged batch migrations, time stamped management
Intelligent auto resume consolidations engine, uninterrupted migrations
Rollback navigations to undo any steps mistaken
Onboard job summaries and status reports
Real time stats synchronized to microseconds
Character mapping and auto configuration functionalities
Exchange 2003, 2007 & 2010 compliant consolidations to SharePoint online
Data dump down to fine granule SharePoint hierarchy possible (Lists, sites, subsites)
PCVITA time warp: Express Migrator fore SharePoint
Though Exchange caters most of the knowledge sharing needs but somewhat repulsive to distributed ad-hoc workspace environments. Besides taking centralized approach with its admin as sole authoritative body its public folder is vulnerable to corruption from vague emails and distribution lists et al. PCVITA team gained deep insights to this issue and came up with Express Migrator for SharePoint, an integrated management tool for Exchange public folder to Office 365 migrations besides being simple and reliable.
Related Migration Products:






Our Client Testimonials

File System to SharePoint migration was not as difficult as I imagined it to be; rather it was quite easy and effortless with your software. Thanks for developing such user-friendly and handy tool for such crucial migration