BPOS Migration - The Seamless Online Productivity Solution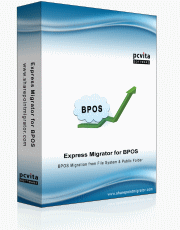 Initial Offer Price is $249
Earlier to Microsoft Office 365 online services, Microsoft unveiled the flexible incorporated Business Productivity Online Suite (BPOS) that allows starting to synchronize with Microsoft Exchange online services, SharePoint Online services, live communication and Office communication online services. Prior for the entire Microsoft BPOS migration processes of the services, you must require having the solution that supports the on-premises. Starts download PCVITA Express Migrator for SharePoint migration toolkit for the entire migration processes with high fidelity.
Why PCVITA Express Migrator for BPOS Migration?
Migrates multiple files & folders to BPOS SharePoint document hierarchically
BPOS migration from File System, Lotus Notes documents library, emails, Exchange public folder, Outlook emails and SharePoint 2003, 2007, 2010.
Keeps the master copy of files, folder securely for backup purposes
It supports the on-premise, and BPOS SharePoint Online migration services
Begin with Free Trial:
Download the free installer of PCVITA Express Migrator for SharePOint (BPOS) for testing and evaluation purposes plus the limitation of 500MB upload able at a time. Download the full version for the entire BPOS migration services by just $249.00 only. We provide numerous repositories to BPOS migration tools. To know more about all BPOS migration repositories, get the quick visit of following links:
Why Switch to BPOS Migration?
As a Microsoft Partner, isnít crucial to leverage your enterprise traditional productivity turns out to the flexible, secure and reliable strategy. Though, Microsoft BPOS migration declares the support of multiple services as of Exchange to BPOS migration services, Lotus Notes to BPOS migration services, File System to BPOS migration, SharePoint to BPOS, why not now? Download PCVITA Express Migrator for SharePoint Microsoft BPOS migration tool, now available for FREE Demo download and Full version download by just $249.00 only. It supports the on-premises and online exchange securely, easy to configure and short steps. For more information and query, contact our technical expert over 24/7 online chat.
Related Migration Products:






30 Days Money Back Policy!